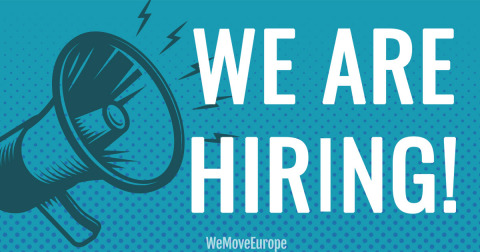 Location: Brussels
Application deadline: March 15th, midnight (CET)
Status: 80% for 1 year with a view to renewal
About us
WeMove Europe is an independent and values-based organisation that seeks to build people power to transform Europe in the name of our community, future generations and the planet. We are people from all walks of life, who call Europe our home – whether we were born in Europe or elsewhere.
Our job is to move a community of a million people across Europe on issues that matter - including the climate emergency, migrant rights, workers rights, better governance, and more. We know this number of people also needs to grow and diversify further so we can represent a strong critical mass that can bring about change in Europe.
We work with staff in 10 countries who connect digitally every day and in person periodically.
About the role
The role is about bringing activism and colour to the institutional corridors of Brussels. In other words, it is about leveraging WeMove Europe's potential to play a broker role, supporting movements in running disruptive campaigning actions in Brussels with a view to raising awareness and shifting thinking at the EU institutions. The role is also about opening doors and building long-term crucial relationships with key actors including campaign targets, politicians, officials, movements, NGOs and the media. Thirdly, it is about increasing the visibility of WeMove Europe in Brussels.
This role sits inside the WeMove Europe campaigns team but supports in particular the work of the Executive Director in Brussels.
Organisation of disruptive campaigns actions in Brussels

Building a network of Brussels based movements and activists to organise with 

Building relationships with wider political targets, officials, partners, media 

Organising events, meetings, capturing outcomes, ensuring follow up

Getting visibility for ED and WeMove Europe on EU/Brussels social media

Content preparation from engaging tweets to blogs to background briefings

General support to the Executive Director on comms and campaigns work

 
These priorities will shift over time and every week is likely to be different. 
About you
We are looking for someone who...
Deeply cares about people power and change in Europe

Has upwards of 3 years of experience either with NGOs, movements or institutions at the European level

Has a good understanding of the workings of the EU institutions

Has a basic understanding of campaigning, organising and mobilising

Is a creative ideas person who loves designing actions 

Is a charismatic networker who is skilled at connecting with people and can easily build lasting relationships 

Has good organisational skills

Is Dutch or French speaking (mother tongue) with an excellent level of English 

Is committed to building a diverse, equitable and inclusive workplace culture. 

Experience of working with an international organisation, ideally remotely

 
Bonus skills and knowledge:
We know that no one can possibly have all these skills and experiences - you will likely be able to bring 2 or 3 of the following to our team:
Good drafting skills 

Strategy and tactics geek

Experience in organising volunteers/activists 

Has a good network in Brussels

Has excellent social media skills

Speaks other languages

Audiovisual content production

Events organisation

 
Terms and conditions
The role is an 80% position for one year, with a view to renewal / longer term perspective. For this role, we are looking for someone based in Brussels. 
We work remotely, which means the position can be based at a home office or co-working space of your choice. We offer a competitive salary within the sector. Full time gross salary range € 4,000 - € 4,300 per month, based on experience level.
In order to enhance the diversity of our team, we encourage applicants of all origins, ages and diverse backgrounds.
How to apply
If you are interested in this position, please send an application in English by March 15th, midnight CET to jobs@wemove.eu with mention of the job title in the email subject (max. 10 MB). 
Please include following files in PDF format*:
a one page (maximum) motivation letter

CV: including your language skills in your first language, English and other languages according to a scale from A1 to C2#

contact details (name, function, e-mail, phone no) for 3 references

Any questions can be directed to jobs@wemove.eu. 
*Please note that we can only accept PDF files
Starting date and recruitment process and timeline
The starting date would be in June. Two rounds of Interviews will take place in early April. The deadline for applications is March 15th.
The recruitment consists of these steps:
Shortlisting of applications
An online exercise for chosen candidates over period 19-24 March
A first round job interview online for those scoring best in the exercise on April 7
A second round on April 9