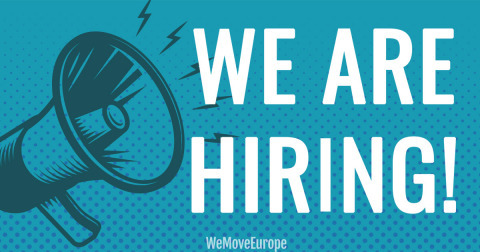 Location: Poland, preferably Warsaw
Application deadline: May 19 2021
About us
WeMove Europe is an independent and values-based organisation that seeks to build people power to transform Europe in the name of our community, future generations and the planet. We are people from all walks of life, who call Europe our home – whether we were born in Europe or elsewhere.
Our job is to mobilise a community of over a million people across Europe on issues that matter - including the climate emergency, migrant rights, workers rights, better governance, and more. We know this number of people also needs to grow and diversify further so we can represent a strong critical mass that can bring about change in Europe. 
We work with staff in 10 countries who connect digitally every day and in person periodically.
About the role
You are able to think and do, strategise and deliver. You love being part of fast-paced campaigning for a better Europe and can also think about the bigger strategic picture. Most importantly you thrive in the digital world -- online campaigning and innovative digital tactics not only come as second nature to you, they excite you as well. Data analysis and data driven decision-making is not a frightening concept to you, on the contrary. And if you are familiar with digital fundraising, that would be a massive added bonus.
Your tasks will include:
Co-create WeMove Europe's European campaigns, with the Campaigns Team 

Identify campaign opportunities and develop and lead on campaigns

Help us understand the political dynamics in Poland by keeping connected to local movements, NGOs, alternative thinking and researching policy processes within your national context as it connects to the EU level

Write strong, compelling copy in Polish and tailor it to your local context

Manage email communications with our Polish members, including setting up and sending emails using our online campaigning tools (Speakout and CiviCRM), and analysing data and user engagement

You will manage the

YouMove

project including promoting YouMove, working with organisations to win their YouMove campaigns and working with the WeMove campaigns team on promising multilingual campaigns and specific language campaigns.

Data analysis to look at the performance of our campaigns and actions

Build and maintain relations with partners in NGOs and movements in Poland and EU-wide

Fundraise from individual donors in Poland

Organise "offline" actions such as demonstrations, petition handovers etc.

Occasionally travel nationally and EU-wide for team meetings, retreats, stakeholder and partner meetings, and petition deliveries
About you
You are a digital campaigning native -- comfortable with and excited by new software and online tools

You love writing, have great writing skills in Polish and are keen to learn more about how to engage people in campaigns through communications

You are deeply committed to working in Poland and Europe for bold, structural change and believe in empowering the people around you to do the same

You have experience with non-partisan political campaigning, ideally digital and offline 

You have strong understanding of the political and social context in Poland as well as a some understanding of the European context.

You are well networked nationally

You are motivated by data, keen to run tests that are backed by statistical significance, and are always looking to engage people more in campaigns 

You are fluent in English to a degree that you can work in an English-speaking environment and can translate from English into Polish

You thrive in an international, multilingual, online setting and are at ease with remote communications

You are happy with travel in Europe

(we are currently not expecting staff to travel, but it will be relevant when this is possible again)

You are comfortable with public speaking

You enjoy working in a team where people strive to learn from each other in order to have the biggest possible impact
The following skills are considered a bonus:
Experience working with distributed campaigning tools like YouMove

Digital fundraising

Great writing skills in English

Statistics / Data analytics

Additional European languages

Organising street actions & protests

You are well networked regionally in activist circles

Strong understanding of one or more other European countries, gained from personal or professional experience
Terms and conditions
Start date as soon as possible

Full time position (40hrs/week; core hours between 10-16 CET)

Permanent position, with a 6 month probation period, on a labour contract based on Polish labour code

We offer a competitive salary within the sector. Salary range, based on experience level: €2,100 - €2,600 gross month salary

Vacation days equivalent to 30 days, plus bank holidays

   

Location: Poland, preferably Warsaw, but for the right candidate can be flexible (within Poland).

We work remotely, which means the position can be based at a home office or co-working space of your choice.
We are committed to being a diverse and inclusive workplace which is why people from communities that experience discrimination on the basis of race, ethnicity; age; women; people with disabilities; and LGBTQ+ people are especially encouraged to apply.
How to apply
If you are interested in this position, please apply in English by May 19 2021
Please include:
motivation letter (no more than 1 page), including mention of your experience with voluntary political activism

CV, including your language skills in your first language, English and other languages according to a

scale from A1 to C2

.

Contacts (name, function, e-mail, phone number) for 3 references
Applications without cover letter will not be accepted!
Next steps
After having screened your applications, we will shortlist up to 10 people for an application task of 3 hours that will be sent to you via email at a time slot of your convenience between May 25 - 30.  The first online interview will be scheduled for Friday June 4th for those scoring highest in the application task.