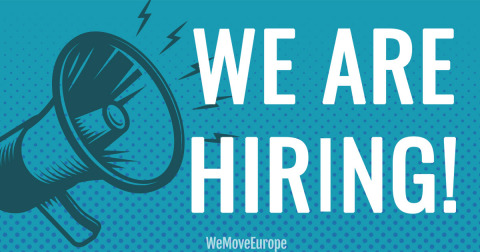 Location: Anywhere in Europe
Application deadline: midnight January 31st (CET)
About us
WeMove Europe is an independent and values-based organisation that seeks to build people power to transform Europe in the name of our community, future generations and the planet. We are people from all walks of life, who call Europe our home – whether we were born in Europe or elsewhere.
Our job is to mobilise a community of almost a million people across Europe on issues that matter - including the climate emergency, migrant rights, workers rights, better governance, and more. We know this number of people also needs to grow and diversify further so we can represent a strong critical mass that can bring about change in Europe. 
We work with staff in 10 countries who connect digitally every day and in person periodically.
About the role
WeMove Europe is looking for a digital fundraiser to help grow our income and help us win campaigns. Digital fundraising continues to be a priority for WeMove Europe, and has seen a promising increase from when the organisation sent its first online fundraising appeal in 2015. WeMove Europe is member funded, meaning we do not accept money from corporations or governments, and rely mostly on individual contributions to fund our work and today 72% of our income comes from small individual donations.
You work with the Campaigns Director and sit at the intersection of campaigning and fundraising. We consider funding from our community to be a campaign action like any other and we want to build it up to support excellent campaigns. You will be responsible for raising donations from members, focusing on the key details that are essential to any great donor stewardship, acquisition, and retention strategies in a digital organisation. 
80% of the role will be focused on digital fundraising from WeMove Europe members and will include:

Writing compelling emails that inspire our members to donate or take action.

Coordinating with Senior Campaigners on the most strategic tactics to win campaigns and build our movement;

Work directly with the fundraising team to achieve strategic objectives;

Make sure we are updating our best-practices to reflect global (and regional) trends in digital fundraising;

Ensuring our donation pages are optimised, maintained, and updated on a permanent rolling basis

Working closely with our Senior Tech staff to identify key user journeys, any weaknesses, and proceed with optimisation

Support our team and work with contractors, including project management.

Optimising user journeys so that conversion from prospect to donor is constantly improved

20% of the role will be focused on supporting the Executive Director in Foundation Fundraising and will include:

Seeking out common cause with progressive foundations whose values, mission and vision align with ours

Pitching our projects and presenting our organisation to those targeted donors

Writing and editing proposals for funding 

Working in close cooperation with Finance team for budget set-up and financial reporting to funders 

Supporting campaigners with accountability / follow up and reporting to donors  
About you
You are able to think and do, strategise and deliver. You love being part of fast-paced campaigning for a better Europe and can also think about the bigger strategic picture. You also:
Have excellent writing skills with a solid understanding of campaigning;

An excellent (mother tongue level) communicator in written and spoken English, this is our primary working language;

Fluent with spreadsheets and basic data analysis, ideally in a fundraising environment

Have experience with online fundraising, and able to run fundraising campaigns from start to finish;

Have an excellent understanding of donor behaviour and how to inspire people to donate, with good instincts for what can be viral and capture attention;

Be keen to learn and develop new skills, and find innovative solutions to challenges;

Committed to building a diverse, equitable and inclusive workplace culture; Able to work remotely.
Bonus experiences :
We know that no one can possibly have all these skills and experiences - you will likely be able to bring 2 or 3 of the following to our team:
Be familiar with our model of digital fundraising (Campact/38degrees/SumofUs)

Experience managing a large email list (100,000+ subscribers);

Experience designing and running experiments and A/B tests;

Proficiency in other EU languages other than English – German or French ideally 

Be able to identify and develop inspiring and impactful campaigns

Have prior experiences with grant application writing and reporting;
Terms and conditions
The role is a full time (40-hour) permanent position, with a 6 month probation period, to start as soon as possible. We work remotely, and the role can be undertaken by anyone based in the EU. 
This means the position can be based at a home office or co-working space of your choice. We offer a competitive salary within the sector.  Salary range: based on experience level, gross year salary €44,000 - €55,000, indexed to local cost-of-living.
In order to enhance the diversity of our team, we encourage applicants of all origins, ages and diverse backgrounds.
How to apply
If you are interested in this position, please send an application in English latest by midnight January 31st (CET) to jobs@wemove.eu with mention of the job title in the email subject (max. 10 MB). 
Please include:
motivation letter (as PDF). Please include mention of your experience with voluntary political activism, and provide contacts (name, function, e-mail, phone no) for 3 references.

CV (as PDF). Please include your language skills in your first language, English and other languages according to a scale from A1 to C2.
Any questions can be directed to jobs@wemove.eu. After confirmation of receipt, notice of the status of your application will be given at the end of the recruitment process only.
Next steps
The recruitment consists of three steps:
Evaluation of applications

An online exercise for chosen candidates in the first two weeks of February

A job interview online for those scoring best in the exercise in the week after exercises are completed 

Ideal start time is as early as possible