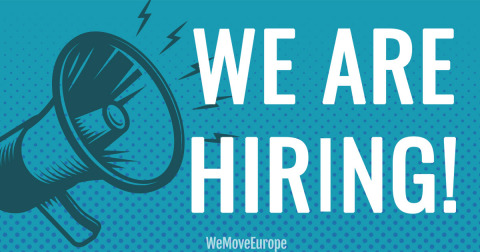 Internship program in Campaigning
Next possible application deadline: Wednesday  15.08.2021
Next possible starting date: 20.09.2021
Conditions: 6 months, 20h/week, minimum wage
Location: Berlin - Kreuzberg
 About us
WeMove Europe is an independent and values-based organisation that seeks to build people power to transform Europe in the name of our community, future generations and the planet. We are people from all walks of life, who call Europe our home – whether we were born in Europe or elsewhere.
Our job is to mobilise a community of almost one million people across Europe on issues that matter - including the climate emergency, migrant rights, workers rights, better governance, and more. We know this number of people also needs to grow and diversify further so we can represent a strong critical mass that can bring about change in Europe. 
We work with staff in 10 countries who connect digitally every day and in person periodically.
 
About the internship
You will get an in-depth introduction into how a digital first campaigning organisation works
Part of your role (50%) will be about supporting the German campaigns team. You will work closely with the German Senior Campaigner, the German Digital Organiser. Another part of your role (50%) will be about supporting the wider campaigns team  working in different countries across EuropeYou will gain experience with the latest technologies that enable digital campaigning; from direct emails for campaigns, to emailing MEPs, to website management  
You will gain experience in the design of digital campaigns, from petitions, to offline actions and all that falls in between
You will help research a high variety of political content topics 
prepare protest campaigns for digital media so that they can have an impact at the European level. 
We organize protests and petition handovers- at times you take over the organisation for this.
Together with the German Digital Organiser you will be the first point of contact with German speaking WeMove members, either via email or or social media channels.
 
About You
You are interested in our topics, you are keen on getting to know NGO work or political campaigning
You are able to work independently in a "remote" team
You are a German native speaker and have very good English skills, knowledge of other EU languages are also welcome
You have good knowledge of social media such as Facebook and Twitter and good knowledge of the usual office applications
experience in NGO work  is a plus, but not a must
You possibly study Politics, Social Sciences, Communication
 
Terms and conditions
 
A full time internship contract
Please indicate in your application the type of your internship (compulsory internship as part of your studies or voluntary internship/Pflichtpraktikum im Rahmen des Studiums oder freiwilliges Praktikum) and enclose your current certificate of enrollment. Voluntary internships should be at least three months. We prefer mandatory internships of 4-6 months.
A workplace in our office in Berlin Kreuzberg: please beware of the current Corona situation, depending on the situation we must keep the flexibility that you occasionally work from home too
Expense allowance of 650 euros per month, travel expenses covered
How to apply
If you are interested in an internship with us, please submit an application (all documents in pdf version) in English, inidcating when you would like to join us as an intern.
Please include:
Motivation letter. If you have activist experience, please include mention of your experience as an activist (voluntary and/or professional)
We appreciate brevity: one page is enough!
CV, including any other language skills according to a scale from A1 to C2.
We are committed to being a diverse and inclusive workplace which is why people from communities that experience discrimination on the basis of race, ethnicity; women; people with disabilities; and LGBTQ+ people are especially encouraged to apply.
 
Next steps
We will contact interesting candidates after the deadline for a video interview of approximately 30 - 60 minutes.